Essential Guide to Low Sodium Eating
If you choose to maintain a low sodium diet then you are aiming in the right
direction. High blood pressure is a health risk for heart problems, this is the reason why dietitians and physicians advise against excess salt intake.  It may be difficult to reduce salt in our food because it adds to the taste of the food and aids in food preservation. An example is the smoked, cured, and pickled foods which rely on salt.
WHAT IS THE PROBLEM WITH SALT?
Salt which is also known as sodium is a vital electrolyte our bodies require to function. It regulates fluid intake and assists in the contraction of muscles and nerve signaling. Sodium affects blood pressure because of its relation to fluid balance. There is a connection between high sodium diet and high blood pressure. This is because water goes with sodium. Sodium causes water retention in the body thereby increasing the pressure in the vessels when blood is being pumped by the heart. As time goes on the walls of the vessel get damaged as a result of increased blood pressure, this can lead to the following cardiovascular problem; stroke, heart failure, and kidney problems.
HOW MUCH SALT IS ENOUGH
The current recommendation for salt intake is 2,300 milligrams daily which is equivalent to 1tablespoon. People over 50 years, those with high blood pressure, diabetes, or chronic kidney diseases are at risk for heart disease and are encouraged to reduce their salt intake to 1,500 milligrams daily.
Ways To Reduce Sodium Intake
Sodium is present in almost every diet. These are some tips to help you keep track of your sodium levels.
SLASH YOUR SODIUM DAILY
First of all, find out your daily sodium intake. Remove about 1000 milligrams a day. Gradually reduce salt intake rather than withdrawing abruptly. For instance, if you are eating up to 4000 milligrams of salt and suddenly reduce it to 2500, you might not get your usual satisfaction. Give your sense of taste the time to adapt to the changes.
TRACK YOUR SODIUM IN Myfitnesspal
Go to MyFitnessPal and click on the reports tab to check your sodium levels for the day. The sodium limit in the app is 2,300 milligrams daily but you can reduce it manually. If you mistakenly exceed your sodium levels for the day refer back to your diary to find out the foods with the highest sodium content and use the next day to balance them.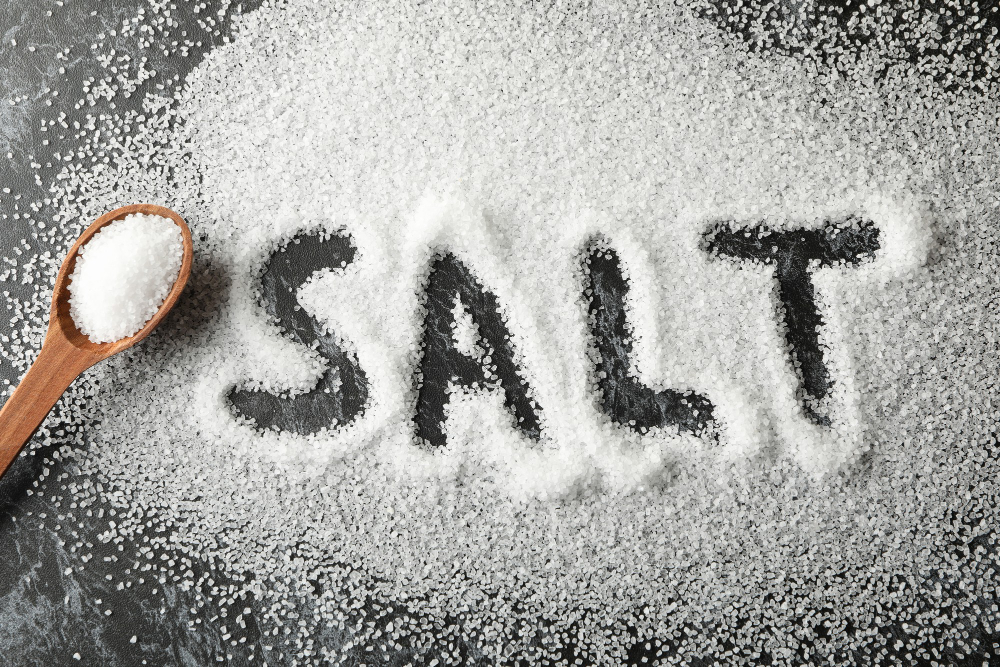 STEER CLEAR OF PROCESSED FOODS
Try as much as you can to always buy fresh food. Processed food contains about 75% of sodium in the diet. The general principle is that the more a food is processed, the more sodium it will likely contain.
PRACTICE LOW SODIUM COOKING
Preparing your meal is a great way to control the quantity of sodium in your food. These tips will help you keep low sodium levels in your food.
Use cold water to rinse canned beans and vegetables before cooking.
Use herbs and spices for seasoning. Rosemary, oregano, basil, cayenne pepper, paprika, ginger, garlic, black pepper, chili powder, and lemon strawberry splash zest are examples of seasonings that give flavor to your food without increasing sodium.
Replace salts used in making sauce and marinades with citrus juice and vinegar
KNOW YOUR SODIUM LABEL
Knowing the label lingo helps reduce sodium from your diet. Watch out for these few things when you are shopping.
Sodium Free: Below 5milligrams of sodium per meal.
Low Sodium:140 milligrams or less sodium per meal.
Very Low:35milligram or less sodium per meal.
Lightly Salted: It contains less than 50% sodium compared to the original serving size.